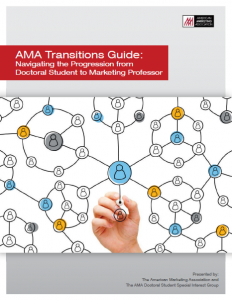 DocSIG is pleased to announce a brand new publication in collaboration with the American Marketing Association and 21 great marketing scholars.
AMA Transitions Guide: Navigating the Progression from Doctoral Student to Marketing Professor is a resource designed to provide an overview of the traditional job preparation and placement process in marketing. It includes codified standard practices (and best practices) that address areas such as:
Job search
C.V. and packet organization
Summer AMA interviews
Fly-outs and research presentations
Negotiating offers
Preparing for success as a new faculty member
We encourage students and departments to take advantage of this new resource. We also extend our sincere thanks to Lynn Brown-Reyes at the American Marketing Association, editors, designers, DocSIG officers, and the faculty who contributed their experience and expertise toward the compilation of this guide:
Ali Besharat, University of Denver
Laurel Cook, West Virginia University
Andrea Dixon, Baylor University
Dave Hardisty, University of British Columbia
Conor Henderson, University of Oregon
Ronald Hill, Villanova University
Mark Houston, Texas Christian University
Ginger Killian, University of Central Missouri
Son Lam, University of Georgia
Cait Lamberton, University of Pittsburgh
Kristy McManus, University of Wisconsin-LaCrosse
Dave Norton, University of Connecticut
Ethan Pew, Stonybrook University
Teresa Preston, University of Arkansas
Jessica Rixom, Florida International University
Jim Salas, Pepperdine University
Robin Soster, University of Arkansas
Clay Voorhees, Michigan State University
Jeremy Wolter, Auburn University
Marie Yeh, Loyola Maryland University
César Zamudio, Kent State University
Hard copies of the guide will be available at the AMA Winter Educators' Conference in San Antonio and at subsequent AMA conferences.