Call for Papers: Generative AI: Promises and Perils
Manuscripts are currently being solicited for an upcoming Journal of Public Policy & Marketing (JPP&M) special issue dedicated to Generative AI: Promises and Perils. For the full CFP click here.
Submission Deadline: January 15, 2024
Winter AMA Pre-Conference: Drive for Marketplace Inclusion: An Opportunity for Marketing Innovation
Held February 22-23 before the AMA Winter Conference, this pre-conference brings together a panel of industry and research thought leaders in a conversation about significant opportunities for marketing innovation arising when addressing inclusion comprehensively. We aim to create a space for dialogue and knowledge co-creation on pertinent areas for diversity and inclusion-engaged marketing between marketing practice and academe.
Scholarships are available. For more information, click here.
DocSIG Scholarly Insights is back for its November 2023 call for blog posts!
For those unaware of this initiative, the AMA DocSIG Scholarly Insights works with the Journal of Marketing Research (JMR) and recruits doctoral students to interview the authors of recent publications. Doctoral students have a unique opportunity to connect with top researchers in the field of marketing, gather deeper insights into recently published articles, and prepare a summary article of their findings. Previous blog posts are available here.This month, we are looking for authors to cover the following articles:
If you are interested in any of the articles and want to participate, please write your name on the Google Sheet. You can either sign up on your own and another person will sign up to become your partner OR if you have a colleague with whom you would like to work, feel free to recruit them to work with you.If none of the articles pique your interest but you would like to participate in this project, please look out for our upcoming emails with new article lists every month.We look forward to working with you and wish everyone a great day!Feel free to contact us with questions at Sameed_Khan@uml.edu or dko005@email.latech.edu.
Nominations Open for 2024 DocSIG Matthew Joseph Mentor Award
DocSIG invites its doctoral student members to nominate a scholar for the 2022 Mathew Joseph Mentorship Award by Tuesday, Dec. 5th at 5 PM ET
The AMA Doctoral Student Special Interest Group (DocSIG) is pleased to receive nominations for the 2024 DocSIG "Mathew Joseph" Mentor Award. Recipients of this award are recognized as distinguished mentors for their extensive contributions to doctoral students' careers.
Marketing professors who provide outstanding mentorship and meet the following criteria may be nominated for the 2024 DocSIG "Mathew Joseph" Mentor Award:
The following criteria must be met:
• Nominators (those submitting the application) must be a current doctoral student enrolled in an AACSB-accredited Ph.D. program in marketing or business administration-marketing, and
• Nominees must be marketing professors who have served at least five years as faculty, and
• Nominees must provide outstanding mentorship beyond what is expected for their position.
Please submit your nomination to Brittany B. Beck (Chair; BeckBB@appstate.edu) and Julia van de Sandt (Chair-Elect; julia.vandesandt@grad.moore.sc.edu) as well as any comments, questions, or concerns.
More information here.
---
11th AIM-AMA Sheth Foundation Doctoral Consortium
JAGSoM presents the 11th AIM-AMA Sheth Foundation Doctoral Consortium in person, post-pandemic. For the last 11 years, this worldwide marketing consortium has provided a platform for doctoral scholars and young educators to incite innovative ideas, create research concepts, and investigate novel approaches within the marketing domain. consequently, our doctoral candidates have been afforded a chance to engage with eminent scholars from across the globe.

The event will be held at Jagadish Sheth School of Management, Bangalore campus

Limited seats available
Register now @ https://lnkd.in/dHKmXsYf
---
2024 AMA Marketing & Public Policy Deadline Extended
Deadline for submissions extended to November 15! More information here.
---
2024 Summer AMA Call for Papers
Deadline February 7! See the full announcement here.
---
2023 Who Went Where Report
The 2023 WWW survey results are now available in the 2023 WWW Final Report. For the past 21 years,
AMA DocSIG has conducted surveys on doctoral students in the job-seeking stage, providing insights
into the job market. Reports from 2003 to 2021 can be downloaded here.

Despite the pandemic's impact on the job market from 2019 to 2021, we encouraged students to share
their job search experiences, resulting in variations in the 2020-2021 report compared to previous ones.
Our survey had two parts: Part 1 collected basic information, including the candidate's name and
institutions, while Part 2 anonymously gathered data on job market experiences, teaching, publications,
and salary.

We promoted survey participation through AMA DocSIG and ELMAR listservs, as well as social media
platforms like Facebook and LinkedIn. If your school wasn't contacted, please provide your marketing
department doctoral program coordinator's contact information to Reza Pedarpour,
rpedarpo@kent.edu.

Md Fourkan and Reza Pedarpour from Kent State University designed and administered the surveys,
with input from our volunteer review team to continually enhance the Who Went Where (WWW)
survey and report.

Congratulations to the new Assistant Professors of Fall 2023! The highly anticipated Who Went Where
report is proudly presented by AMA DocSIG.
---
DocSIG Summer AMA Grant Winners
This year, DocSIG had the opportunity to offer financial support to its members to help them partially fund their attendance to the 2023 AMA Summer Academic Conference. We received quite a few applications and we are happy to announce the winners. DocSIG reiterates its commitment to help and support our doctoral student community in as many ways as possible.
Congratulations to the winners!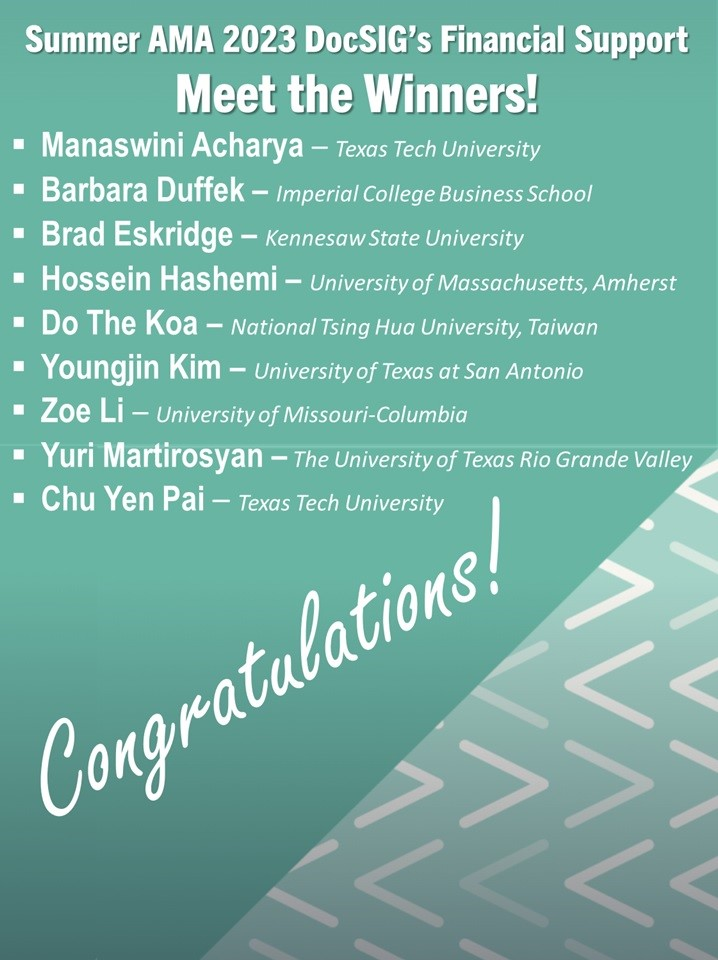 ---
Dr. Matthew Joseph Emerging Scholar Award
Every year, Dr. Mathew Joseph in collaboration with the AMA DocSIG honors one doctoral student who displays exemplary scholarship and a bright future in the academic discipline.
On behalf of DocSIG, I would like to thank all the DocSIG members who applied and continue to participate and support this wonderful doctoral community.
We had many candidates, each one of them more than worthy of this prestigious award. We had a select panel of three top scholars in the marketing field view the entries. Two rounds of assessment were performed based on the nominees' publication records, novelty and relevance of research. After a thorough assessment and detailed evaluation of all nominations, a final and unanimous decision was recently made.
The AMA DocSIG is pleased to announce that Rodrigo da Silva Dias from Duke University is the winner of the 2023 DocSIG "Mathew Joseph" Emerging Scholar Award!
Congratulations Rodrigo!
Please stay tuned to the DocSIG website, Facebook, and LinkedIn for details on how to apply for the Mathew Joseph Emerging Scholar Award in 2024.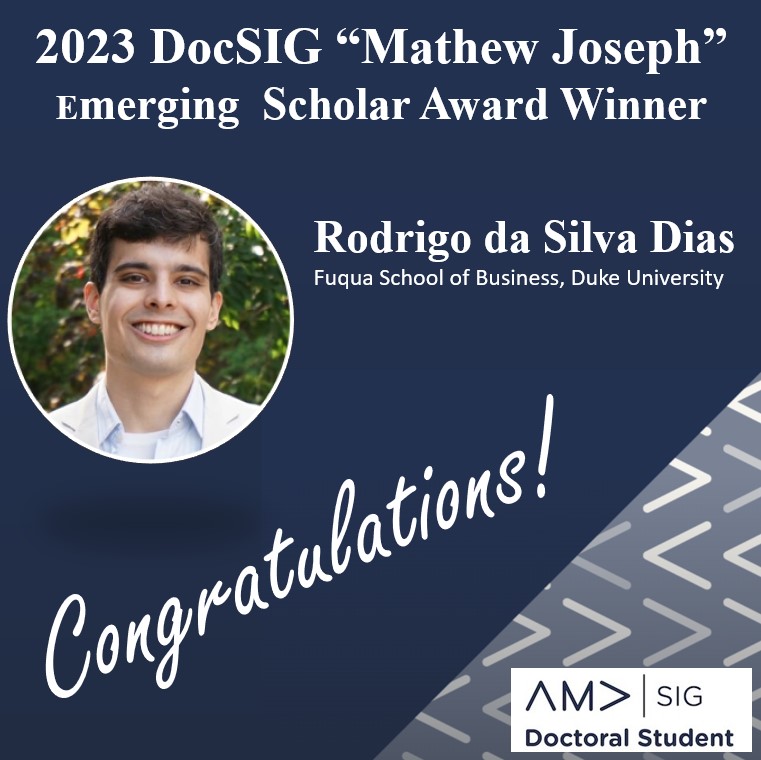 ---
"Mathew Joseph" DocSIG Mentorship Award Winner
Congratulations to Dr. Maura L. Scott (FSU) on winning the 2023 "Matthew Joseph" DocSIG Mentorship Award. The award will be presented at the 2023 Winter AMA Academic Conference during the DocSIG Mentor's breakfast session. We want to thank the DocSIG community for the numerous nominations and Dr. Matthew Joseph for sponsoring the 2023 award.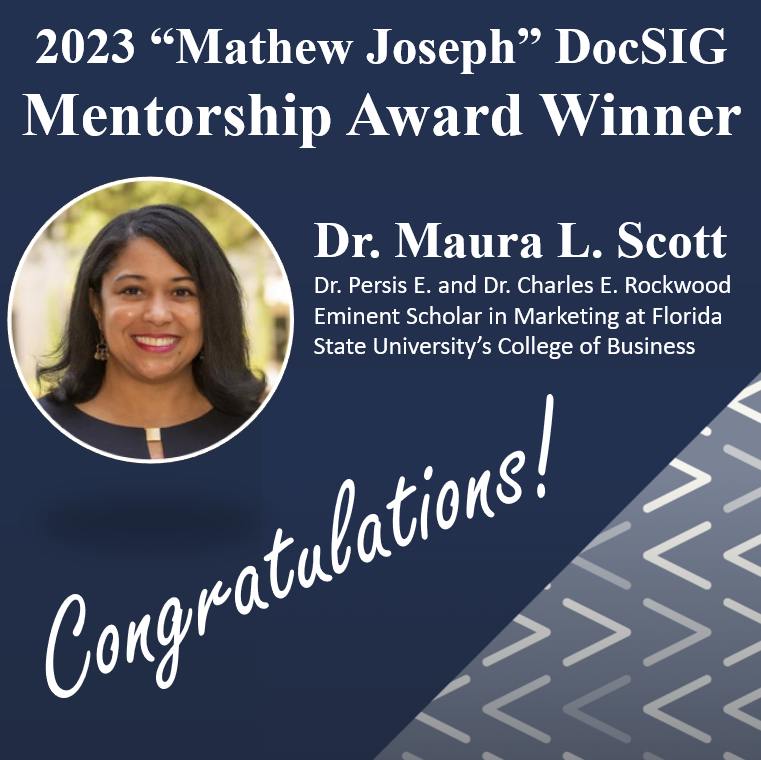 ---

Recruiting Writers for JMR Scholarly Insights
We are currently recruiting participants for our upcoming September issue which covers five recent JMR articles and we are looking to fill slots by Friday, September 30th, 2022. Interested students can sign up for one of the September articles. You can either sign up solo and another person will sign up to become your partner OR if you have a colleague with whom you would like to work, feel free to recruit them to work with you.
Please visit our DocSIG Features page here for more information.
If you are interested in participating in this opportunity, please reach out to Brandon Holle (hollebr1@broad.msu.edu) and Narek Grigorian (Narek.Grigorian@bayes.city.ac.uk), our current DocSIG officers of JMR Scholarly Insights, who are always at hand for any help or clarification that you might need!
---

The results for the 2022 Who Went Where survey are out!
For more details, click here. For the full report, click 2022 WWW Final Report.
For the last 18 years, the American Marketing Association's Doctoral Special Interest Group (AMA DocSIG) has surveyed students who are in the job seeking stage of their doctoral programs. Based on their responses, we compile a report that describes the current job market. Reports from 2003 through 2021 can be downloaded from the AMA DocSIG website (docsig.org).
---
Sparring with your Research Question Before You Go Into the Ring: A Key Milestone in the Journey from Research to Publication
Presentation for the DocSig AMA Academic Winter Meetings 2022, Las Vegas by Dr. Linda L. Price. Click here to read more.
---
Top 10 Journals in Marketing: Beyond the Financial Times Big 6
Beyond theses six journals (i.e., JCR, JCP, JM, JMR, JAMS, & MS), what do you think are the next top 10 journals for young scholars to target their research? This question was answered by 104 expert reviewers in the field of marketing. Click here to find out who made the list!
---
Building a Strong Publication Record
What does it take to build a strong publication record over the years? The top-ranking scholars talk about their productivity and consistent presence in the Most Published lists. Read their insights here.
---
And don't forget to check out our social media accounts!
AMA DocSIG is the American Marketing Association's special interest group for marketing doctoral students.
We provide opportunities in which marketing PhD students develop professional skills in the areas of research, writing, teaching, presenting, reviewing, and other areas that aid in job placement and career development.
Check back soon for updates!