The 2023 AMA Winter Academic Conference is fast-approaching and we are excited to see you there! For information on DocSIG-hosted and recommended sessions, click here. This is where you will find the most up-to-date information for doctoral students and any DocSIG event registrations for the conference.
---

Journal of Consumer Behavior invites submissions July 15-August 15, 2023 for a special issue entitled Marketing to Evolving Consumers: The Good, the Bad, and the Ugly. Click here for more information.
---
Winter AMA 2023 DocSIG's Financial Support Winners
This year, DocSIG had the opportunity to offer financial support to its members to help them fund their attendance to Winter AMA 2023. We received quite a few applications and we are happy to announce the winners. DocSIG reiterates its commitment to help and support our doctoral student communities as much as possible. Congratulations to the winners!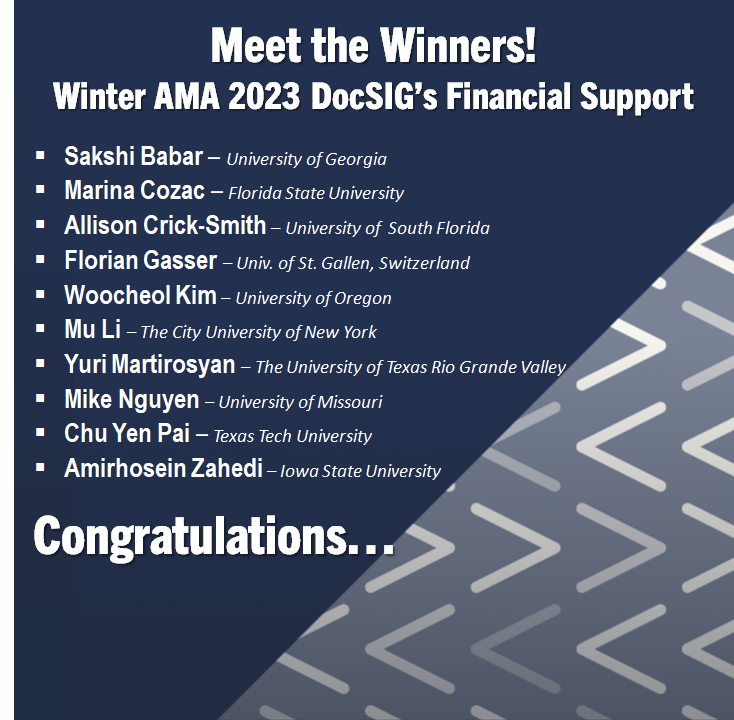 ---
"Mathew Joseph" DocSIG Mentorship Award Winner
Congratulations to Dr. Maura L. Scott (FSU) on winning the 2023 "Matthew Joseph" DocSIG Mentorship Award. The award will be presented at the 2023 Winter AMA Academic Conference during the DocSIG Mentor's breakfast session. We want to thank the DocSIG community for the numerous nominations and Dr. Matthew Joseph for sponsoring the 2023 award.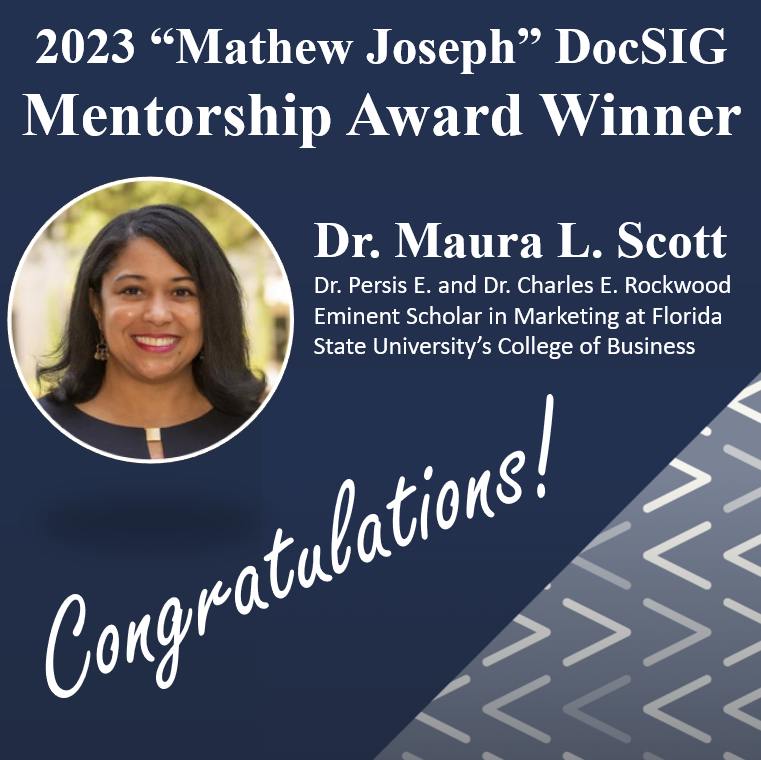 ---

2022 DocSIG "Mathew Joseph" Mentorship Award
AMA DocSIG invites all doctoral students who are DocSIG members to send an application to nominate a scholar as potential candidate for the 2022 DocSIG Mathew Joseph Mentorship Award.
Deadline to provide a nomination: Wednesday, November 30, 2022 at 11:59 PM EST
The American Marketing Association's Doctoral Student Special Interest Group (DocSIG) welcomes nominations for the 2022 DocSIG Matthew Joseph Mentorship Award. This award honors a faculty scholar who has demonstrated exemplary support and mentorship and extensive contributions to doctoral students' careers in the marketing discipline. The nomination application must meet the following criteria:
Be a doctoral student or candidate in marketing currently enrolled and in good standing at an AACSB-accredited Ph.D. program in marketing or business administration-marketing.
Be an official member of DocSIG. That is, having chosen DocSIG as one of their SIGs in their AMA membership profile.
Have an active membership of the American Marketing Association (AMA) at the time of application.
Nominees must:

Be marketing professors who have served at least five years as faculty
Have provided outstanding mentorship beyond what is expected for their position
Applications must be in one .pdf document including a cover letter as to why the nominee would be an ideal recipient of the DocSIG Matthew Joseph Mentorship award, including statements outlining the nominee's qualification for the award. This letter should detail how the nominee has served as an outstanding mentor to doctoral students, including specific mentoring activities, the number of doctoral students advised, mentoring programs, etc.
All applications will be evaluated by a panel composed of a mix of current and past DocSIG leadership and faculty members affiliated to universities different from the universities of the nominees. To apply, please email one .pdf document to kgiangbarrera1@gsu.edu and bbb019@latech.edu.
Please contact Kevin Giang Barrera (kgiangbarrera1@gsu.edu), AMA DocSIG Chair and Brittany Beck (bbb019@latech.edu) with any questions you may have.
The winner will receive a plaque and will be announced during one of DocSIG's events at the 2023 Winter AMA Conference.
---

Recruiting Writers for JMR Scholarly Insights
We are currently recruiting participants for our upcoming September issue which covers five recent JMR articles and we are looking to fill slots by Friday, September 30th, 2022. Interested students can sign up for one of the September articles. You can either sign up solo and another person will sign up to become your partner OR if you have a colleague with whom you would like to work, feel free to recruit them to work with you.
Please visit our DocSIG Features page here for more information.
If you are interested in participating in this opportunity, please reach out to Brandon Holle (hollebr1@broad.msu.edu) and Narek Grigorian (Narek.Grigorian@bayes.city.ac.uk), our current DocSIG officers of JMR Scholarly Insights, who are always at hand for any help or clarification that you might need!
---

The results for the 2022 Who Went Where survey are out!
For more details, click here. For the full report, click 2022 WWW Final Report.
For the last 18 years, the American Marketing Association's Doctoral Special Interest Group (AMA DocSIG) has surveyed students who are in the job seeking stage of their doctoral programs. Based on their responses, we compile a report that describes the current job market. Reports from 2003 through 2021 can be downloaded from the AMA DocSIG website (docsig.org).
---
2022 Mathew Joseph Emerging Scholar Award Winner
Dr. Mathew Joseph honors one doctoral student each year who displays exemplary scholarship and a bright future in the academic discipline.
On behalf of DocSIG, I want to thank those who applied and continue to participate and support this wonderful doctoral community. We had many candidates, all more than worthy of this prestigious award.
We had a select panel of three top scholars in the marketing field view the entries. Two rounds of assessment was performed based on candidate publication records, novelty and relevance of research.
A final decision after a thorough assessment and detailed evaluation of all nominees was recently made. AMA DocSIG is pleased to announce that Lan Anh Nu Ton from the University of Georgia has been awarded the 2022 Mathew Joseph Emerging Scholar Award!
Congratulations Lan Anh Nu Ton!
Please stay tuned to the DocSIG website, Facebook, and LinkedIn for details on how to apply for the Mathew Joseph Emerging Scholar Award in 2023.
---
Sparring with your Research Question Before You Go Into the Ring: A Key Milestone in the Journey from Research to Publication
Presentation for the DocSig AMA Academic Winter Meetings 2022, Las Vegas by Dr. Linda L. Price. Click here to read more.
---
Top 10 Journals in Marketing: Beyond the Financial Times Big 6
Beyond theses six journals (i.e., JCR, JCP, JM, JMR, JAMS, & MS), what do you think are the next top 10 journals for young scholars to target their research? This question was answered by 104 expert reviewers in the field of marketing. Click here to find out who made the list!
---
Building a Strong Publication Record
What does it take to build a strong publication record over the years? The top-ranking scholars talk about their productivity and consistent presence in the Most Published lists. Read their insights here.
---
And don't forget to check out our social media accounts!
AMA DocSIG is the American Marketing Association's special interest group for marketing doctoral students.
We provide opportunities in which marketing PhD students develop professional skills in the areas of research, writing, teaching, presenting, reviewing, and other areas that aid in job placement and career development.
Check back soon for updates!