2023 "Mathew Joseph" Emerging Scholar Award
AMA DocSIG invites all doctoral students who are active AMA DocSIG members to apply for the 2023 Mathew Joseph Emerging Scholar Award.
Deadline for applicants: Saturday, April 7, 2023 at 11:59 PM EST.
Click here for the full announcement or navigate to it under the News tab.
---

2023 Marketing & Public Policy Pre-Conference
Join us in this year's conference on "Harnessing Research to Promote Societal Equity". Specially suited for doctoral students & early career faculty to learn, network, and receive mentoring on how to bring public policy, well-being, and impactful research together.
Hosted at the Military Women's Memorial in Arlington, VA
8:00 AM – 4:15 PM
Thursday, June 8, 2023
Pre-conference Agenda:
1. Conducting research with vulnerable populations
2. Policy & well-being research for the greater good
3. Substantive & theoretical considerations for impactful policy research
4. Meet your JPP&M Editors
5. Kickstarting your public policy & marketing academic journey
6. Emergent issues at the intersection of marketing & public policy
To apply, MPPCworkshop2023@gmail.com
We'd like to give a special thanks to our sponsors:
* University of North Florida
* Loyola University Chicago – Quinlan School of Business
* AMA Marketing & Society SIG
---

The 2023 JPIM Annual Research Forum, powered by the Product Development and Management Association (PDMA), seeks various types of conference submissions from scholars from all disciplines who share a common interest in new product development and innovation management research. The JPIM Research Forum is part of the PDMA conference and will offer networking opportunities with scholars, practitioners, the JPIM's Editorial Team and the PDMA community.
A Best Doctoral Student Paper will be awarded!
Please visit their website rlee@business.fsu.edu) or Dr. Magda Hassan at Alliance Manchester Business School (magda.hassan@manchester.ac.uk) if you have any questions.
---
2023 Business for a Better World Dissertation (B4BW) Proposal Competition by Colorado State University, College of Business
Submission Deadline: June 2, 2023
Website with Complete Details: https://biz.colostate.edu/events/2023/june/b4bw-dissertation-proposal-competition
Competition Co-Chairs: Tiffany Trzebiatowski (tiffany.trzebiatowski@colostate.edu) and Chris Berry (chris.berry@colostate.edu)
Endorsed by Responsible Research in Business & Management (RRBM) and consistent with RRBM's vision, the College of Business at Colorado State University is providing funding for dissertation proposals addressing business sustainability. We seek proposals from students across all business disciplines. The authors of the three proposals judged to have the greatest potential for enhancing societal well-being will each receive $6000. In addition, the winners along with leading scholars whose research is aimed at creating a better world, will be invited to participate in a virtual research workshop during which the winners will present their research.
---
Journal of Consumer Behavior invites submissions July 15-August 15, 2023 for a special issue entitled Marketing to Evolving Consumers: The Good, the Bad, and the Ugly. Click here for more information.
---

View highlights from the 2023 AMA Winter Academic Conference here.
---
Winter AMA 2023 DocSIG's Financial Support Winners
This year, DocSIG had the opportunity to offer financial support to its members to help them fund their attendance to Winter AMA 2023. We received quite a few applications and we are happy to announce the winners. DocSIG reiterates its commitment to help and support our doctoral student communities as much as possible. Congratulations to the winners!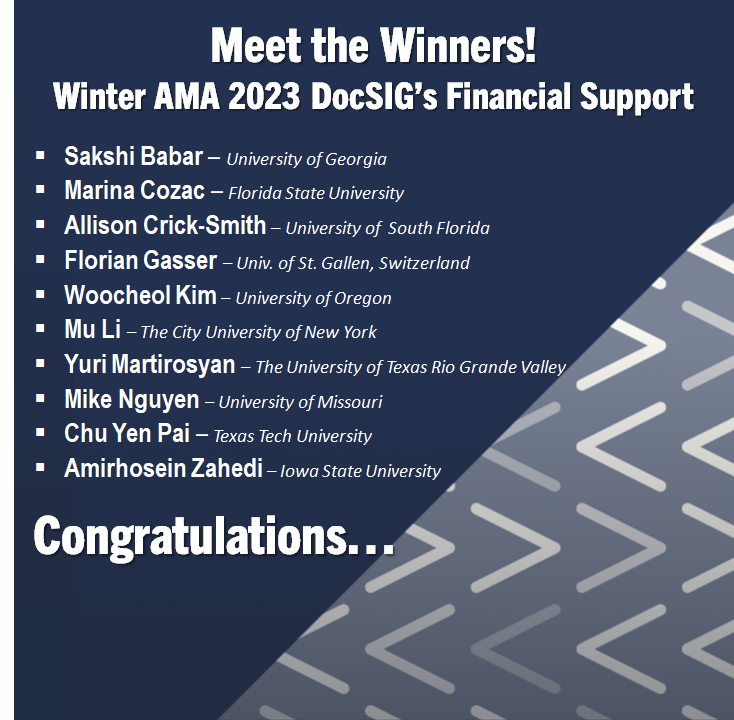 ---
"Mathew Joseph" DocSIG Mentorship Award Winner
Congratulations to Dr. Maura L. Scott (FSU) on winning the 2023 "Matthew Joseph" DocSIG Mentorship Award. The award will be presented at the 2023 Winter AMA Academic Conference during the DocSIG Mentor's breakfast session. We want to thank the DocSIG community for the numerous nominations and Dr. Matthew Joseph for sponsoring the 2023 award.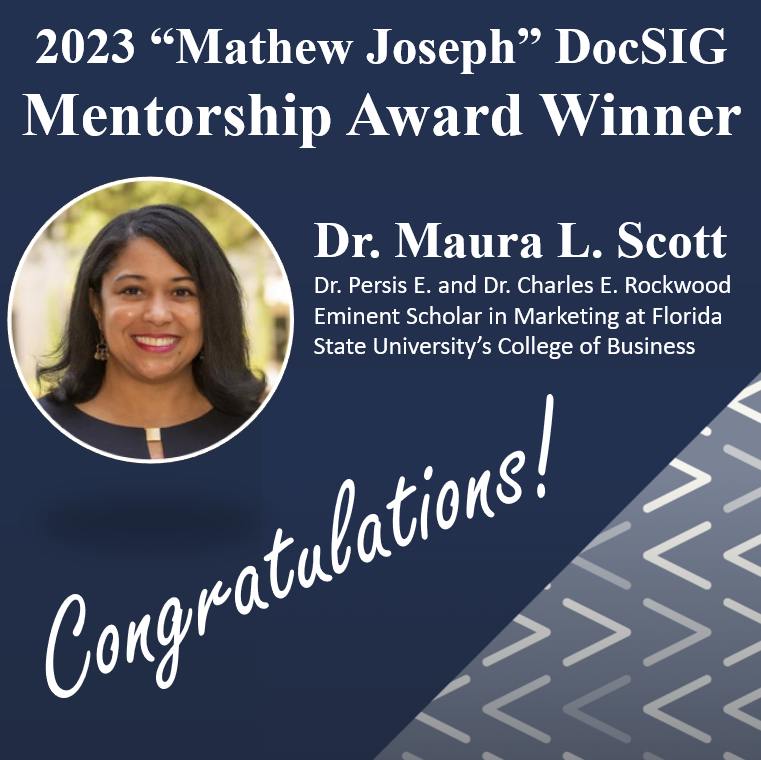 ---

Recruiting Writers for JMR Scholarly Insights
We are currently recruiting participants for our upcoming September issue which covers five recent JMR articles and we are looking to fill slots by Friday, September 30th, 2022. Interested students can sign up for one of the September articles. You can either sign up solo and another person will sign up to become your partner OR if you have a colleague with whom you would like to work, feel free to recruit them to work with you.
Please visit our DocSIG Features page here for more information.
If you are interested in participating in this opportunity, please reach out to Brandon Holle (hollebr1@broad.msu.edu) and Narek Grigorian (Narek.Grigorian@bayes.city.ac.uk), our current DocSIG officers of JMR Scholarly Insights, who are always at hand for any help or clarification that you might need!
---

The results for the 2022 Who Went Where survey are out!
For more details, click here. For the full report, click 2022 WWW Final Report.
For the last 18 years, the American Marketing Association's Doctoral Special Interest Group (AMA DocSIG) has surveyed students who are in the job seeking stage of their doctoral programs. Based on their responses, we compile a report that describes the current job market. Reports from 2003 through 2021 can be downloaded from the AMA DocSIG website (docsig.org).
---
Sparring with your Research Question Before You Go Into the Ring: A Key Milestone in the Journey from Research to Publication
Presentation for the DocSig AMA Academic Winter Meetings 2022, Las Vegas by Dr. Linda L. Price. Click here to read more.
---
Top 10 Journals in Marketing: Beyond the Financial Times Big 6
Beyond theses six journals (i.e., JCR, JCP, JM, JMR, JAMS, & MS), what do you think are the next top 10 journals for young scholars to target their research? This question was answered by 104 expert reviewers in the field of marketing. Click here to find out who made the list!
---
Building a Strong Publication Record
What does it take to build a strong publication record over the years? The top-ranking scholars talk about their productivity and consistent presence in the Most Published lists. Read their insights here.
---
And don't forget to check out our social media accounts!
AMA DocSIG is the American Marketing Association's special interest group for marketing doctoral students.
We provide opportunities in which marketing PhD students develop professional skills in the areas of research, writing, teaching, presenting, reviewing, and other areas that aid in job placement and career development.
Check back soon for updates!