John A. Howard/AMA Doctoral Dissertation Award | Call for Nominations
Students completing the requirements for a doctoral degree in marketing and consumer behavior-related topics between October 1, 2021, and September 30, 2022, are invited to enter the annual John A. Howard/AMA Doctoral Award Competition. Please click here to learn more about eligibility requirements and to submit a nomination.

Nomination Deadline: October 25, 2022.
---

Recruiting Writers for JMR Scholarly Insights
We are currently recruiting participants for our upcoming September issue which covers five recent JMR articles and we are looking to fill slots by Friday, September 30th, 2022. Interested students can sign up for one of the September articles. You can either sign up solo and another person will sign up to become your partner OR if you have a colleague with whom you would like to work, feel free to recruit them to work with you.
Please visit our DocSIG Features page here for more information.
If you are interested in participating in this opportunity, please reach out to Brandon Holle (hollebr1@broad.msu.edu) and Narek Grigorian (Narek.Grigorian@bayes.city.ac.uk), our current DocSIG officers of JMR Scholarly Insights, who are always at hand for any help or clarification that you might need!
---

HigherEd SIG Call for Submissions: Winter AMA 2023
Deadline October 7.
Your research can use any methodology and be on any topic related to Marketing to Evolving Consumers: The Good, The Bad, and The Ugly, including but not limited to the following:
Consumer well-being
Social causes and consumers boycotting brands
Deployment of augmented reality, virtual reality, mixed reality, and voice assistants in enhancing consumer quality of life
How artificial intelligence shapes consumer journeys
Web 3.0 and metaverse points of caution, considerations, and opportunities
Consumer privacy concerns and ethics
Overconsumption and consumer wastage
Sustainable Consumption
Consumer addictions
Misinformation & fake news
Cancel culture
Consumer activism
Consumer resilience in the face of adversity
Eligible submissions must meet the following criteria:
First author should be a current doctoral student or a Ph.D. graduate during/after Spring 2022.
The submissions need to clearly specify how their research contributes to consumer behavior theory and practice.
If accepted for presentation, one of the coauthors must attend and present the paper at the 2023 Winter AMA Conference.
Questions? First: Download the full CFP here! Still have questions? Contact sig.highered@gmail.com.
Conference and Special Section of Marketing Science: Call for Papers on Diversity, Equity, and Inclusion
Conference: March 24-25 ,2023
Conference Submission Deadline: January 15, 2023
Special Section Submission Deadline: May 31, 2023
Upcoming Deadlines: Call for Papers
2023 Academy of Marketing Science Annual Conference
Deadline: October 15, 2022
Conference Info: May 17-19, 2023, New Orleans, LA
More information: https://cdn.ymaws.com/www.ams-web.org/resource/resmgr/2023_ac_nola/2023_cfp_revised.pdf
2023 AMA Marketing and Public Policy Conference
Deadline: November 11, 2022
Conference Info: June 8-10, 2023, Arlington, VA
More information: https://www.ama.org/2023-ama-marketing-and-public-policy-conference-call-for-papers/
---

The results for the 2022 Who Went Where survey are out!
For more details, click here. For the full report, click 2022 WWW Final Report.
For the last 18 years, the American Marketing Association's Doctoral Special Interest Group (AMA DocSIG) has surveyed students who are in the job seeking stage of their doctoral programs. Based on their responses, we compile a report that describes the current job market. Reports from 2003 through 2021 can be downloaded from the AMA DocSIG website (docsig.org).
---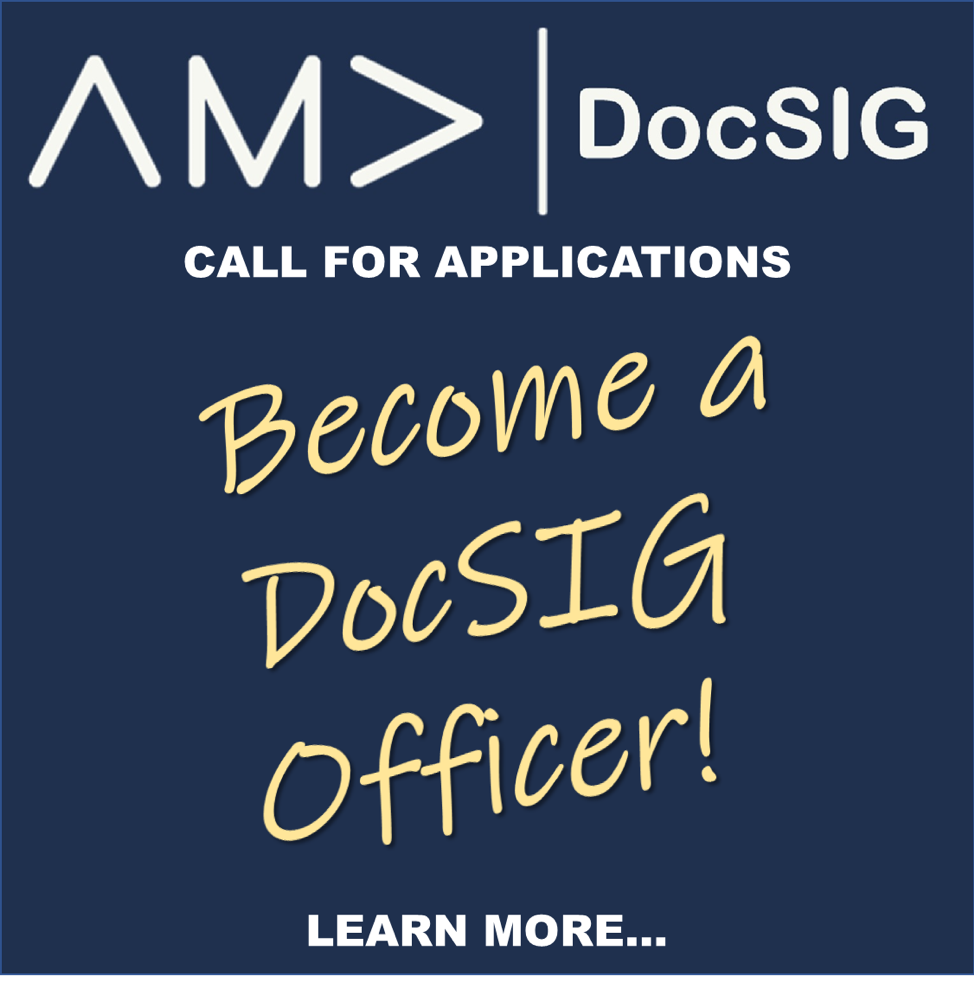 AMA DocSIG is inviting doctoral students in marketing to apply for 4 officer positions for the year 2022-2023
The Doctoral Student SIG (DocSIG) is a special interest group of the American Marketing Association designed specifically for marketing doctoral students. We aim to serve as a central hub of information and resources for doctoral students. We are looking for enthusiastic, proactive, and dedicated doctoral students who can join our team in the following positions:
Vice-Chair of Special Projects & Partnerships – In this position you will leverage your scholar network to plan, coordinate and implement activities (e.g., webinars) of interest to our doctoral student community. Also, you will work with the Chair and Chair-Elect to ensure that all AMA DocSIG events at Winter/Summer AMA conferences are well coordinated and work toward strengthening relationships with other AMA SIGs. (Lead contact: Brittany Beck bbb019@latech.edu)
Assistant Vice-Chair of Special Projects & Partnerships – In this position, you will leverage your scholar network to plan, coordinate and implement activities (e.g., webinars) of interest to our doctoral student community, working together with the Vice-Chair. (Lead contact: Brittany Beck bbb019@latech.edu)
Assistant Vice Chair of Online Engagement – In this position, you will work with the VC of Online Engagement on the official DocSIG social media and servlist (e.g., ACR-L). This position will require a time commitment of no more than 2-3 hours per month, with peaks before Winter/Summer AMA conferences and when officer rotations happen. (Lead Contact: Stella Tavallaei mtavalla@fiu.edu)
Assistant Vice-Chair of Content Management – In this position, you will work with the VC of Content Management on updates to the official AMA DocSIG with content of benefit for doctoral students. The ideal candidate will have experience in website creation/management. This position will require a time commitment of no more than 2-3 hours per month, with peaks before Winter/Summer AMA conferences and when officer rotations happen. (Lead contact: Melanie Koskie mko010@latech.edu)
Doctoral students interested in applying or inquiring more about these positions may email the contact lead of the respective position copying the AMA DocSIG Chair, Dr. Louis Zmich (lzmich@ut.edu) and the AMA Chair-Elect, Kevin Barrera (kgiangbarrera1@gsu.edu) with a document including their CV and short bio about themselves. We will receive applications until the August 31, 2022, but earlier applications will be prioritized.
---
2022 Mathew Joseph Emerging Scholar Award Winner
Dr. Mathew Joseph honors one doctoral student each year who displays exemplary scholarship and a bright future in the academic discipline.
On behalf of DocSIG, I want to thank those who applied and continue to participate and support this wonderful doctoral community. We had many candidates, all more than worthy of this prestigious award.
We had a select panel of three top scholars in the marketing field view the entries. Two rounds of assessment was performed based on candidate publication records, novelty and relevance of research.
A final decision after a thorough assessment and detailed evaluation of all nominees was recently made. AMA DocSIG is pleased to announce that Lan Anh Nu Ton from the University of Georgia has been awarded the 2022 Mathew Joseph Emerging Scholar Award!
Congratulations Lan Anh Nu Ton!
Please stay tuned to the DocSIG website, Facebook, and LinkedIn for details on how to apply for the Mathew Joseph Emerging Scholar Award in 2023.
---
MSP2022 Conference Announcement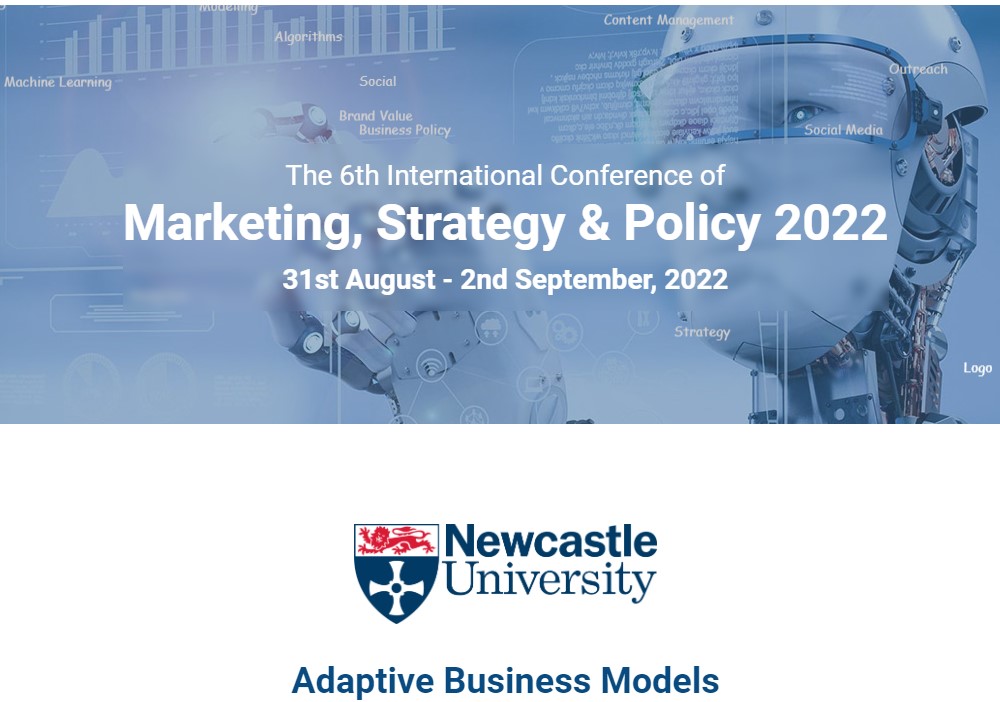 The 6th International Conference of Marketing, Strategy and Policy 2022
Where: Zoom
When: August 31st to September 2nd, 2022
Adaptive Business Models
Achieving goals setup as 2030 agenda by United Nations related to global challenges require commercial environments to adopt net zero approach and transform themselves using computational intelligence for strategically implementing restorative business models. While technological advancements can enable the transformation, the negative impact of the adaptation of these transformations on physical and psychological health of humans cannot be ignored. The solutions to such challenges reflect on need for smooth and strategic flow of information between corporations, institutions, markets and policy makers. Conceptually embedded into the role of Innovation, Institutions, Information and Technology. Academics can play an important role in building on the lessons to be learnt from these disruptions from marketing, strategy and policy viewpoint.
The sixth annual conference of Marketing, Strategy and Policy aims to invite research scholars, academics and practitioners from around the world to discuss and debate such transformations and their impacts with or without technological interventions. The objective of this conference is to bring scholarly minds together for exploring the new perspectives that can look into mechanisms which will uplift futuristic approach with an ethical and inclusive lens. In light of these discussions, this conference invites the empirical and conceptual papers that will contribute to the debate and expand knowledge required to deal with these transformations and adaptations. To continue this debate, scholars working in the field of both national and international business functions such as marketing, strategy, management, policy, technology, information sciences, data analytics and modelling etc. are encouraged to submit their conceptual and empirical research papers related to, but not limited to the topics given below:
Track 1: Brands and Branding
Track 2: Responsible Marketing Models
Track 3: International Marketing
Track 4: Sustainability and Sustainable Development Goals
Track 5: Innovation, Design and Technology
Track 6: Artificial Intelligence, Machine Learning, Modelling Analytics and Robotics
Track 7: Relationship Marketing Strategy
Track 8: Social Media Marketing
Track 9: Marketing & Operations
Track 10: Business-to-Business Marketing
Track 11: Enterprise, Governance and Policy
Track 12: Transformative Marketing
Presenters will receive quality feedback from well-established scholars that will help them refine their research. Interactions with editors of top-journals will allow participants to improve their research outputs as per the expectations of the journals and reviewers, which will help them to increase chances of acceptance of their papers by top journals. Breakout sessions will provide opportunities of networking with like-minded scholars, editors and early career researchers. Keynote speakers will provide insights into future research that will guide scholarship of tomorrow.
One of the authors of the accepted manuscript should register for presenting at the conference.
Opportunity to get feedback from GEs and submit to special issues of following journals:
Industrial Marketing Management
International Journal of Information Management
Journal of Organisational Change Management
Papers considered by the Guest Editors (GEs) potentially suitable for publication in Industrial Marketing Management (IMM), will be invited to attend a Paper Development Workshop (PDW). Plan is to hold this PDW in the United Kingdom. However, GEs are mindful that due to COVID the PDW may need to run in an online mode. The attendance/non-attendance at the PDW will not impact the chances of getting publication in IMM. On the contrary, attending this PDW would provide an opportunity for the authors to receive feedback and improve their manuscripts before submission. An invitation to attend or participate in the PDW would not imply that the papers will be accepted for publication. It is important to note that only high quality submissions will be subjected to IMM's rigorous double-blind peer-review process.
Doctoral Colloquium
Third Doctoral Colloquium of MSP2022 invites PhD scholars to present their work to panel of experts that will help them prepare for their defence. Interactions will enable doctoral students to understand how to manoeuvre their career in Higher Education or Industry. Participation will also allow doctoral students to pitch for opportunities of employment with potential future employers. For presenting at doctoral colloquium PhD students should submit an extended abstract of their thesis to the submission link below and choose Doctoral Colloquium from the drop down menu.
TARA Scholarships and Awards
* Best PhD Thesis Award
* Best Conceptualization Award
* Best Methodology Award
* Best Impact Award
* Best Paper Award
Sparring with your Research Question Before You Go Into the Ring: A Key Milestone in the Journey from Research to Publication
Presentation for the DocSig AMA Academic Winter Meetings 2022, Las Vegas by Dr. Linda L. Price. Click here to read more.
---
AMA Winter Conference: Celebrating Our Doctoral Students
Brandon Holle presented:
Rejuventating Brands: The Role of Brand Consistency in Box Office Performance. Brandon Holle, Ahmet Kirca, Jamal Shamsie, Suman Basuroy, and Daniel Chaffin
Louis Zmich presented:
What Do Facial Products Have To Do With A Waterfall? The Role of Remoteness, Social Comparison, and Envy in Sponsored Social Media Content Effectiveness.
#SocialMediaWellness: Exploring a Research Agenda for Healthy Social Media Consumption.* Breanne Mertz, Kelley Cours Anderson, Ashley Hass, Timothy Kaskela, and Louis J Zmich
*Best Paper in the Marketing of HigherEd SIG Future Trends in Consumer Behavior Special Session
Hao Wang:
Received the 2022 American Marketing Association (AMA) Sales SIG Docotral Dissertation Proposal Award.
Florian Gasser:
The Role of Social Media Influencers in Tourism Marketing Research: A Derivation of a Processual-Model of Influencing, Influencer Characteristics, and Research Operationalizations
Victor Chernetsky:
Drivers of Firm Customer Centricity: A Meta-Analytic Review of the Role of National Culture. Ahmet H. Kirca. Global & International Marketing track
Conflict Management at the Marketing-Sales Interface. Douglas E. Hughes and Doug Walker. Sales Management and Personal Selling track
---
Top 10 Journals in Marketing: Beyond the Financial Times Big 6
Beyond theses six journals (i.e., JCR, JCP, JM, JMR, JAMS, & MS), what do you think are the next top 10 journals for young scholars to target their research? This question was answered by 104 expert reviewers in the field of marketing. Click here to find out who made the list!
---
Building a Strong Publication Record
What does it take to build a strong publication record over the years? The top-ranking scholars talk about their productivity and consistent presence in the Most Published lists. Read their insights here.
---
And don't forget to check out our social media accounts!
AMA DocSIG is the American Marketing Association's special interest group for marketing doctoral students.
We provide opportunities in which marketing PhD students develop professional skills in the areas of research, writing, teaching, presenting, reviewing, and other areas that aid in job placement and career development.
Check back soon for updates!