Winter AMA was a blast! This year, AMA DocSIG hosted or co-sponsored several events! Each one provided unique opportunities for networking with faculty and fellow AMA DocSIG members. Continue reading below for an overview.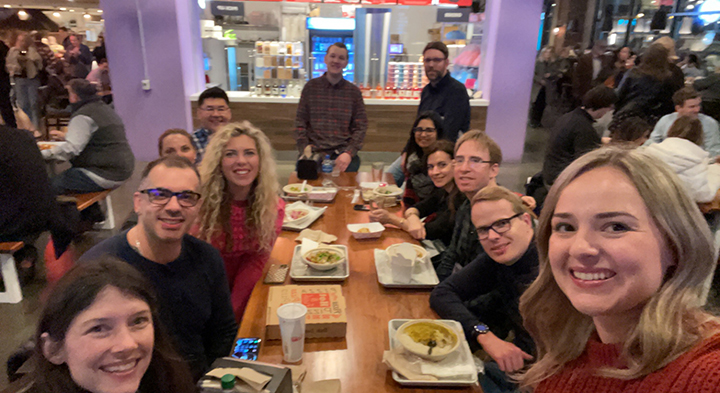 ---
DocSIG Members' Networking Dinner

Active AMA DocSIG members joined in on our networking dinner event. We had a great time in Nashville!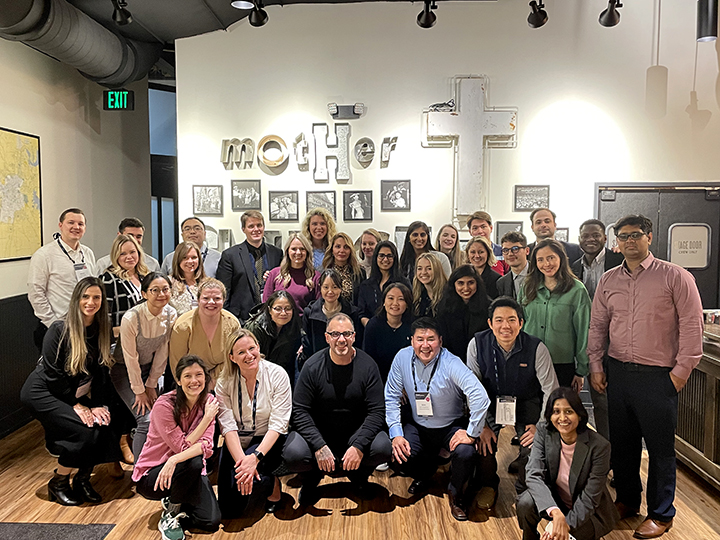 ---
DocSIG's Mentor's Breakfast
Thank you to the mentors who joined at the DocSIG Mentor Breakfast. The Ph.D. Students enjoyed interacting with some wonderful mentors.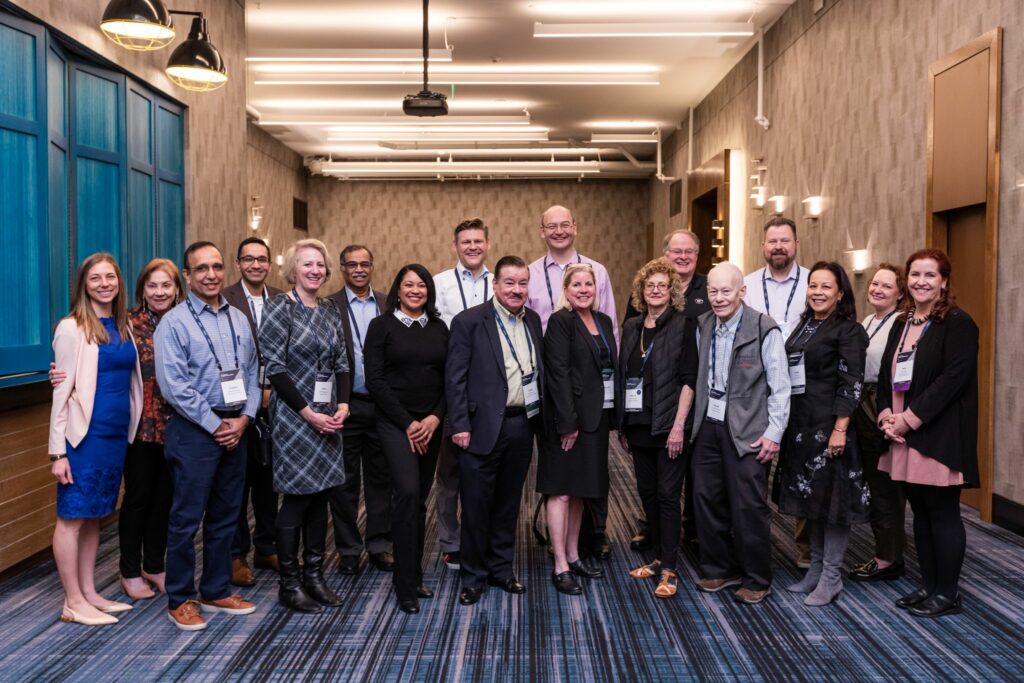 See the file below to view the mentors!
---
A Multi-perspective of Pathways Towards Developing a Research Agenda
DocSIG Virtual Session | When: Monday, February 6 from 4-5:15pm Central
Don't miss our online session this February 06th, 2023. Dr. Denish Shah and Dr. Steven D'Alessandro will share their thoughts on different ways to develop a research agenda.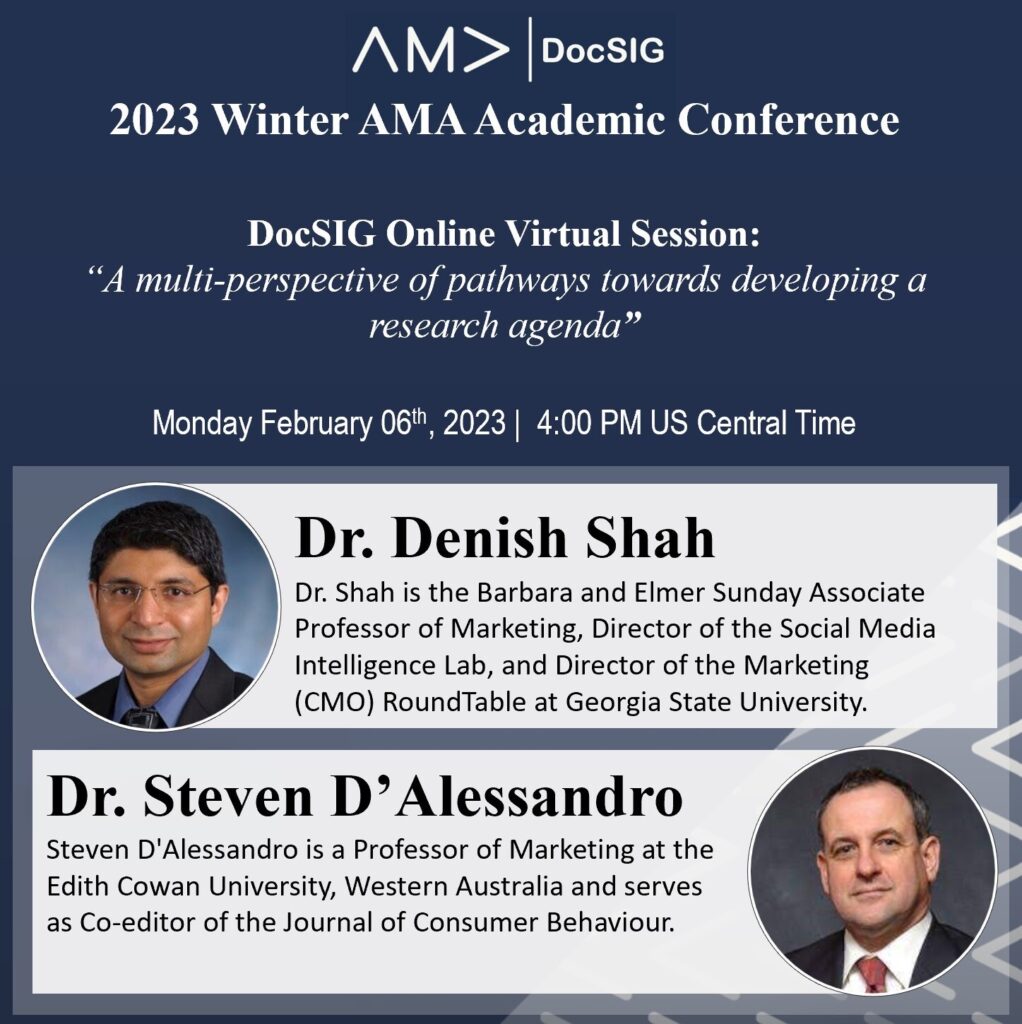 ---
Scholarly Research — Ideas and Avoiding Pitfalls
DocSIG recommended Pre-Conference Event | When: Friday, February 10 from 8:00 AM – 12:00 pm Central
If you are arriving early in Nashville and have time to attend a pre-conference event, please check out the pre-conference event organized by The Ph.D. Project having Dr. V. Kumar, a Legend in Marketing, and Dr. Eli Jones as keynote speakers.
Space for this workshop is limited, so register now to save your spot.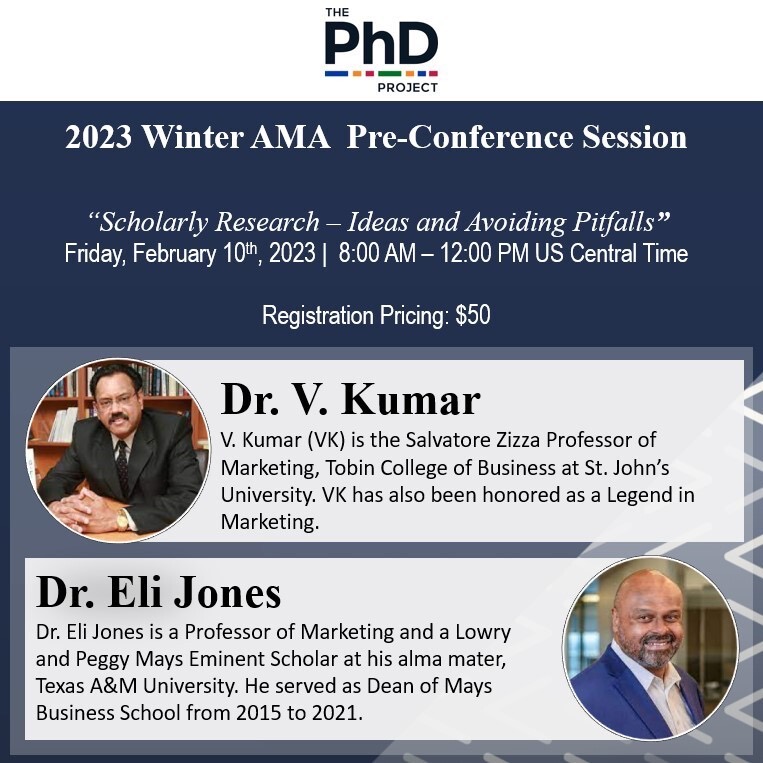 ---
Navigating the Review Process
DocSIG In-person Session | When: Friday, February 10 from 4:15-5:30pm Central
Interested in gaining in-depth insights about how to navigate the academic publication review process? Don't miss our In-Person event at Winter AMA. Dr. Shrihari Sridhar, current Editor-in-Chief of the Journal of Marketing and past Associate Editor and Area Editor at leading journals including Journal of Marketing and the Journal of Marketing Research, and Dr. Karen Winterich, current Associate Editor of the Journal of Marketing and Journal of Marketing Research and member of the Editorial Review Board of the Journal of Consumer Research and Journal of Consumer Psychology, will be sharing their experience and thoughts and will answer your questions and doubts on how to navigate the review process.
Do you have a question for the speakers? Please click here: https://forms.gle/bnx3kffbmxiCankV9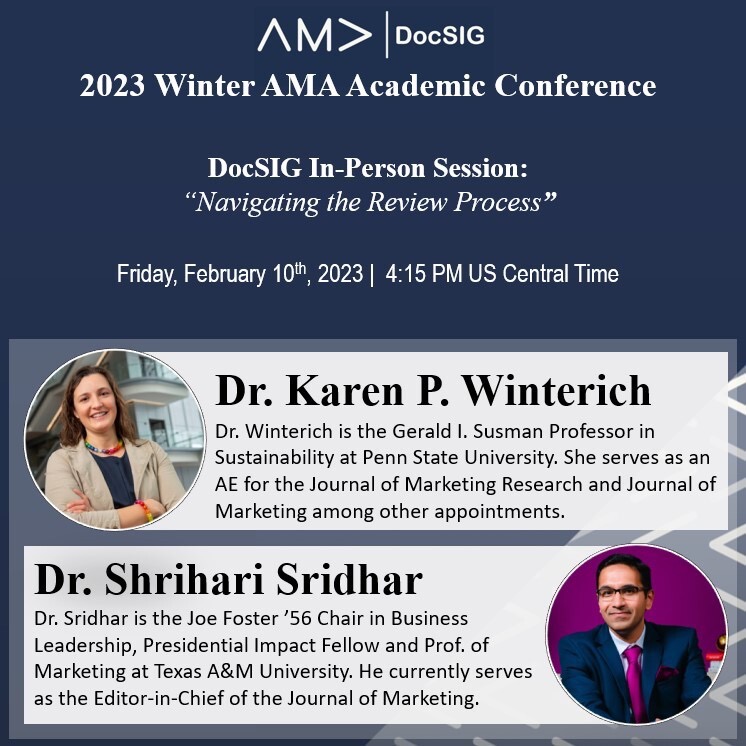 ---