Mathew Joseph Emerging Scholar Award Winner 2021
Dr. Mathew Joseph honors one doctoral student each year who displays exemplary scholarship and a bright future in the academic discipline. This year, three faculty judges were tasked with choosing one doctoral student from a large pool of extremely talented candidates. After tallying student scores, AMA DocSIG is pleased to announce that Gizem Yalcin, from Rotterdam School of Management, Erasmus University, has been awarded the 2021 Mathew Joseph Emerging Scholar Award! Gizem will receive a plaque, $250, and free registration to the 2021 AMA Summer Educators' Conference.
Congratulations Gizem!
Please stay tuned to the DocSIG website and social media for details on how to apply for the Mathew Joseph Emerging Scholar Award in 2022.
Sheth Foundation Doctoral Consortium
Registration is currently open – Doctoral Scholars and Young Faculty members can apply to attend the event here. See the graphic below or visit the website here for further details.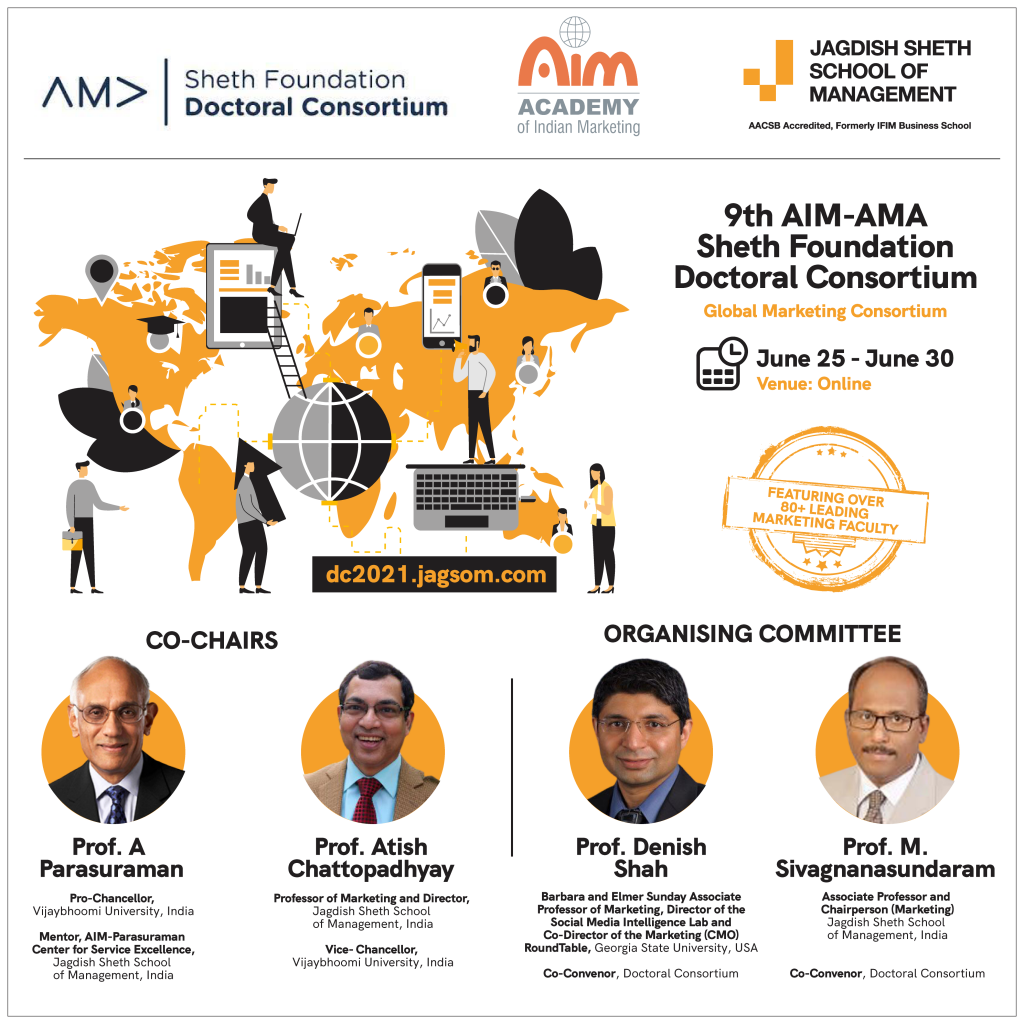 Methodology Webinar: Scale Development by Professor George Balabanis
AMA DocSIG invites you to a webinar by Professor George Balabanis, Professor of Marketing at CASS Business School. Professor George Balabanis webinar will be conducted at 2.30 pm CST (8.30 pm UK time) on
Wednesday, 23 June 2021, for tentatively 90 minutes.
Professor Balabanis will share his insights on scale development to publish in journals. This is an opportunity for doctoral students to learn more on how to develop and validate scales Here is a sneak peek at the topics we will address during the webinar with Professor Balabanis:
• How to develop the scale for Journal Publishing.
• Pitfalls for scale development that you should be cautious about
• Key challenges and steps that require attention
• Highlighting key resources
Please sign up here and save the zoom link shared below:
Join Zoom Meeting Link: Click here.
Meeting ID: 970 1108 9639
Passcode: 131852
HigherEd SIG Doctoral Student Grants
The Marketing for Higher Education Special Interest Group (Higher Ed SIG) is pleased to announce doctoral student grant opportunities in 2021!
The SIG will offer ten (10) grants that include: (1) one-year American Marketing Association (AMA) membership ($75) and (2) one earlybird registration for the AMA Summer Educators' Conference 2020. Additional grants may be offered subject to budget approval.
Applicants must be:
a current doctoral student enrolled in an AACSB accredited PhD program in marketing or business administration-marketing, and
able to provide proof of acceptance of a poster or competitive paper for presentation at the AMA Summer Educators' Conference 2021.
a current member of Higher Ed SIG. If not a current member, must join the SIG before the end of June to receive the grant. (SIG membership is free for AMA members).
Applications must submit one pdf document including:
Cover letter as to why the applicant would be an ideal recipient of the grant.
Current curriculum vitae, including a list of publications and conference presentations.
All applications will be evaluated by the Higher Ed SIG Executive Board and must be received by Tuesday, June 1, 2021 at 5:00 PM EST. To apply, please email one PDF to sig.highered@gmail.com.
Please contact or Mathew Joseph (mjoseph4@stmarytx.edu) with any questions.
Winners will be notified by late June. We look forward to your application!
Winners Announced!
The 2021 AMS Review-Sheth Foundation Annual Doctoral Competition for Conceptual Articles generated an enthusiastic response from doctoral students all over the world. In total, the competition received 41 submissions of which the six most promising were selected for recognition. Click here for a complete list of winners and topics.
Research Camp Announcement
Aston Business School is organizing its Ninth Marketing Research Camp virtually on 14-15 June. We bring together world-leading researchers to generate insightful discussions and identify promising research directions in a very relaxed atmosphere. Our four guest speakers are world-leading marketing researchers:
John Hulland is a professor of marketing at, University of Georgia, USA, and the current Editor-in-Chief of the Journal of the Academy of Marketing Science (JAMS).
Peter C. Verhoef is a professor of marketing and dean of the Faculty of Economics and Business at the University of Groningen, Netherlands
Lena Steinhoff is Professor of Service Management at the Institute for Marketing and Service Research at the University of Rostock, Germany
Greg W. Marshall is Charles Harwood Chair in Marketing and Strategy in the Crummer Graduate School of Business at Rollins College, USA and Professor of Marketing and Sales in the Marketing & Strategy Group at Aston Business School, UK and the current Editor-in-Chief of the European Journal of Marketing
The research camp is a mix of plenary presentations and thematic workshops. Two parallel workshops will run after the plenaries each day. Workshops are led by four highly recognized professors with distinctive and current research ideas.
The research camp also offers a pre-camp research workshop on 13 June, where scholars can meet with Professor Hulland to discuss research ideas in an open forum format. This pre-camp workshop is strictly limited to 25 attendees on a first-come-first-served basis.
For further details, please refer to the website below or contact the organizer, Andrew Farrell.
Building a Strong Publication Record
What does it take to build a strong publication record over the years? The top-ranking scholars talk about their productivity and consistent presence in the Most Published lists. Read their insights here.
2020 AMA DocSIG Research Productivity Report is now available! Click here for more details!
PDMA invites applications to the 2021 Doctoral Dissertation Proposal Competition. Click here for more details!
The results of the 2020 Who Went Where Survey are out – Find more details here.
And don't forget to check out our social media accounts!
AMA DocSIG is the American Marketing Association's special interest group for marketing doctoral students.
We provide opportunities in which marketing PhD students develop professional skills in the areas of research, writing, teaching, presenting, reviewing, and other areas that aid in job placement and career development.
Check back soon for updates!